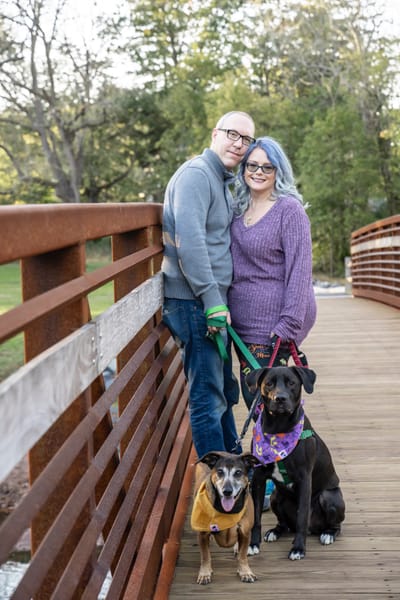 Dogs provide us with unconditional love on a daily basis. We're blessed by the joy and love they bring to our lives, and they encourage us to try and love the same way. Our dogs inspire us to try and be the people who deserve them.
Here at Cool Dog Gear, we actively strive to live up to our name by providing the coolest, most unique dog gear around. As life long animal lovers, our pets our part of our family, and we believe they should be spoiled accordingly!
Our crazy canines are our constant companions, and the inspiration and passion behind Cool Dog Gear. Our pups love to play, explore, and chew. They personally test all of our toys for fun level and durability, and boy do they take their jobs seriously!
Come visit Falkor, Penny, and their people at our store! You and all your furry companions are welcome to stop by anytime (on leash, of course! lol). Follow us on our
Facebook
and
Instagram
pages - don't forget to click Like!
See you around the Bark Park!
Cool Dog Gear was started by the Founders Sue Hepner, Paula Jaffe, and their dogs Chase, Tuddie, and Aubrey. The current owners Jeff and Nicole Mueller and their dogs Falkor and Penny took over as owners in 2021, and continue the legacy of providing amazing toys and treats to the dog community.