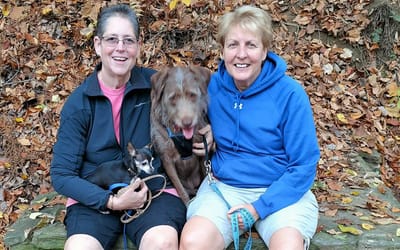 We are enthusiastic about providing quality "gear" for you and your dog. As life long animal lovers, we believe that a pet is part of the family and should be treated and pampered accordingly!
Our dogs are awesome companions and our inspiration for Cool Dog-Gear. Our totally spoiled pooches love to play!! We have had hours of entertainment watching them as they try out so many of the products we carry here.
We are also very mindful of the important role our dogs play in the"dog lover's community". Our "kids" have taught us about unconditional love and remind us daily that there IS ALWAYS enough puppy love to share.
Together, with our dogs in hand, we have walked and wagged tails in order to raise money for numerous organizations in our community. We have fostered dogs rescued from kill shelters until their forever homes can be found and our pups have visited folks recovering in rehabilitation hospitals ... bringing back memories and smiles along the way. Hard to believe that our angels were ALL "unwanted" rescue dogs.
Chase, Tuddie, Aubrey and their people welcome you to visit our stores - and follow us on our
Facebook
and
Instagram
pages - don't forget to click Like!
See you around the Bark Park!